"Country Cottage Sheek"



Bun.ting [buhn-ting]
Noun
1. a coarse, open fabric of worsted or cotton for flags, signals etc.
2. patriotic and festive decorations made from cloth, of from paper, usually in the form of draperies, wide streamers, etc., in the colour of the national flag.
3. flags, especially a vessel's flags, collectively.
Yes, I'm FINALLY going there and blogging about bunting. I have had this blog post planned forever; but recently got put off as someone else pipped me to the post (Booo); anyway I am over that and now have decided to go ahead and publish my post - I mean it is the internet after all, someone; somewhere out there is going to be posting the same thing as you right? I can't be the only one blogging about home made bunting or a how to guide on how to make it?
Anyway, I have wanted some bunting for ages to wrap around the bottom of our bed, the stuff in the shops look nice but I mean come on who is going to pay £20 for some fabric on string - not me! I'm sure by now you guys have come to realise I do love a bit of home made crafts every now and then; it really was a no brainier - home made is cheaper, fun and you can use what ever you want in regards to material and pattens.
The likes of
Cath Kidston
must make a killing on their fabric range ( click
here
if you wish to browse the range) it's perfect for bunting - more so if like me you are going for that country cottage theme. When originally browsing the website, I noticed they actually DON'T sell ready made bunting or any DIY kits - gap in the market (it's ok, when you make lots of money remember it was my idea yeah?)
If you want to make your own home made bunting, just follow this easy how to guide - it has pictures and everything!
Things You'll Need:
Ribbon/String - Long enough for your required length

Needle and Thread/Sewing Machine - which ever you prefer

Scissors

Fixing Pins

Material in Various patterns

Bunting shaped template

Marker/Pen - for drawing with

Imagination
First things first, you'll need to collect all of the required items above (yes I know it is a given but you are always going to forget something - trust me); when this is completed the fun can begin. I say fun, I mean finding somewhere big enough to spread all of your creativeness all over the shop (I'm not kidding either); once you're comfortable in your space - you can begin.
We'll need to select the fabric we are going to use first - I went for a blue based fabric, you'll need to then trace around the template until you have filled the material.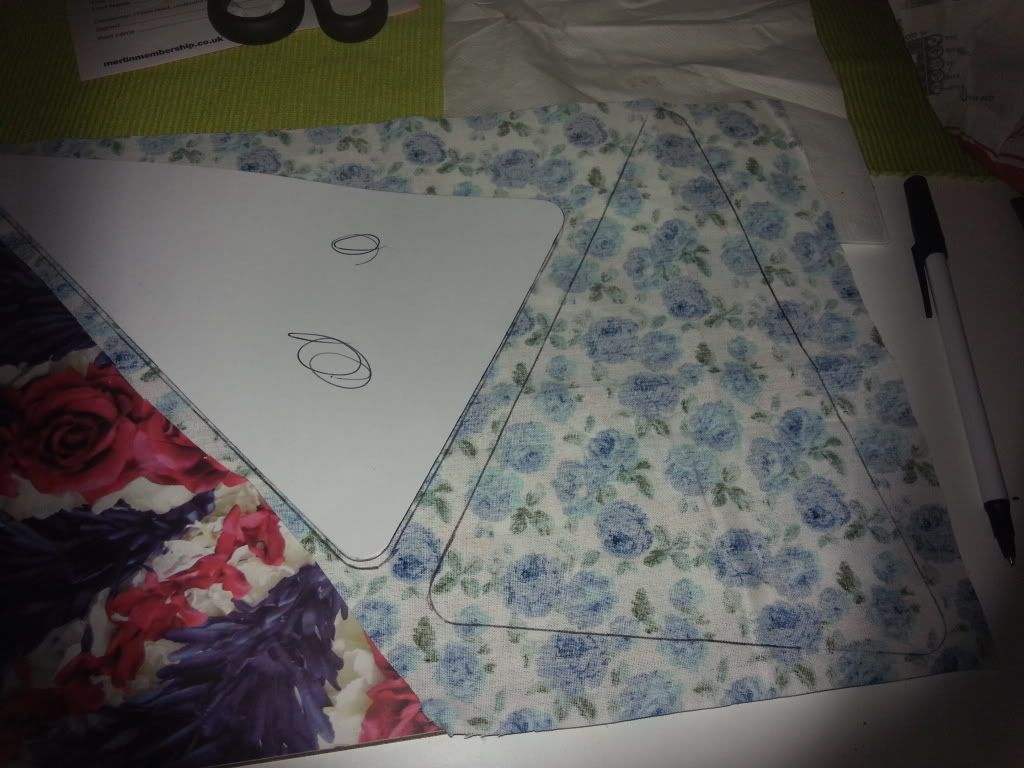 The next step is pretty obvious - you'll need to cut the shapes out. How you do this is up to you, but I always find it easier cutting the shapes out roughly - then cutting more neatly when they are separated.
You should end up with flag shapes like this - but in different colours and fabric types, depending on your selection.
The next step is to decide what order you want your bunting to be in - colour/pattern wise so we can start to well construct it. You'll need to either pin your string under the individual flags OR in-between the ribbon once you've folded it in half. When you've done this you'll need yo pin it all together - just to making sewing it that much easier.
And this is what it looks like once you've pinned it all into place. (I told you being creative got messy)
I've decided to hand sew mine but you can use a machine if you wish - it would help speed the whole sewing process up by ALOT. I've just used a simple back stitch to sew mine together. It doesn't really require a strong stitch, the bunting is just going to hang there so it will hold all the bits together nicely.
And the moment of truth - the finished product - at the moment it doesn't hang so great because we've not got our new bed, but pretty soon we will do! If you want to see the bed this is the
one
.
Have you made your own bunting? Anything else you guys want to see making - let me know in the comments below!