Excuse the pun above! I do try to be funny sometimes - mostly it doesn't work out that way (sigh); I'm usually the ONLY one laughing at my jokes, or the occasional laugh I DO get is most likely at me not with me (you all know what I mean there right?)
Now that I've gotten off the beaten track let's get back to it! This here blog post is about a few purchases I have made recently. It is a bit later than planned - but life sometimes likes to chuck in a curve ball or two!
I'm not going to lie, I don't really wear many hair accessories - I have the usual bobby pins and hair-bands but nothing special or adventurous. I'm open to trying new things and this, my followers is where
Prairie Charms
comes in. One day I was minding my own business; flicking through my
Twitter feed
only to stumble upon a re-tweet about a competition (I'm a sucker for a RT comp - so sue me!) to win a
floral crown
, this is when
Prairie Charms
entered my world - and my oh my I am glad they did.
I hot footed it to the
Prairie Charms website
to check out their other creations, when you do you will NOT be disappointed, they cater for everyone and I mean EVERYONE. There is a vast selection of
home made jewellery
,
hair accessories
,
clothing and accessories
and for those wanting to get the perfect gift (especially as Christmas is around the corner)
gift cards
. Personally, I could buy one of everything on-line but sadly the bank balance wouldn't allow; so I purchased the bunting necklace (sadly this doesn't seem to be available to purchase currently - keep a look out though),
Paige retro headband
and the gorgeous
Effie glitter bow
.
I was very impressed with how quickly the delivery was, just how well packaged and well presented the items were.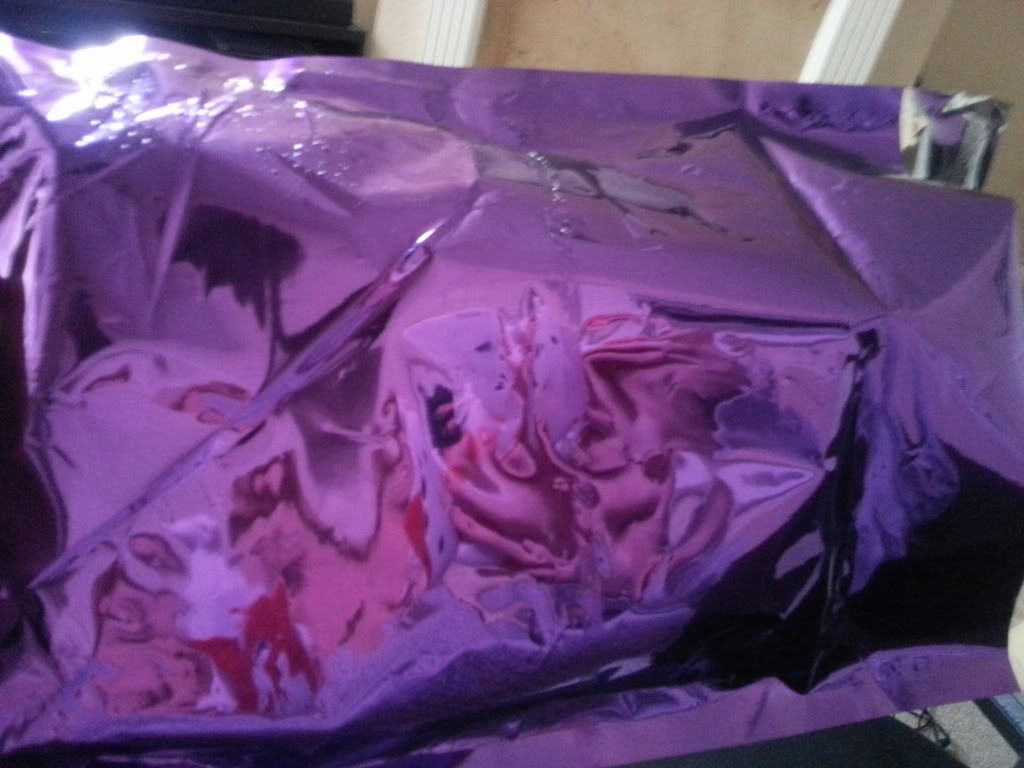 I was even more impressed with the
Paige retro headband
in real life, the pictures don't do it justice. I am very into my retro/50's fashion and this hair accessory is just perfect. I have a rather large head (that's putting it nicely) and this headband had no trouble fitting on my head. I like the fact that you can re-size and re-shape to suit your shape and taste.
I decided upon this item down to the print, it is very
Cath Kidston
in regards to design and colour - so I couldn't not snap this up. The item retails at $12.00 which is roughly about £8.00, so an affordable price and really wouldn't be out of place on the high street in your well known stores, the added bonus being that it is lovingly hand-made and crafted to order.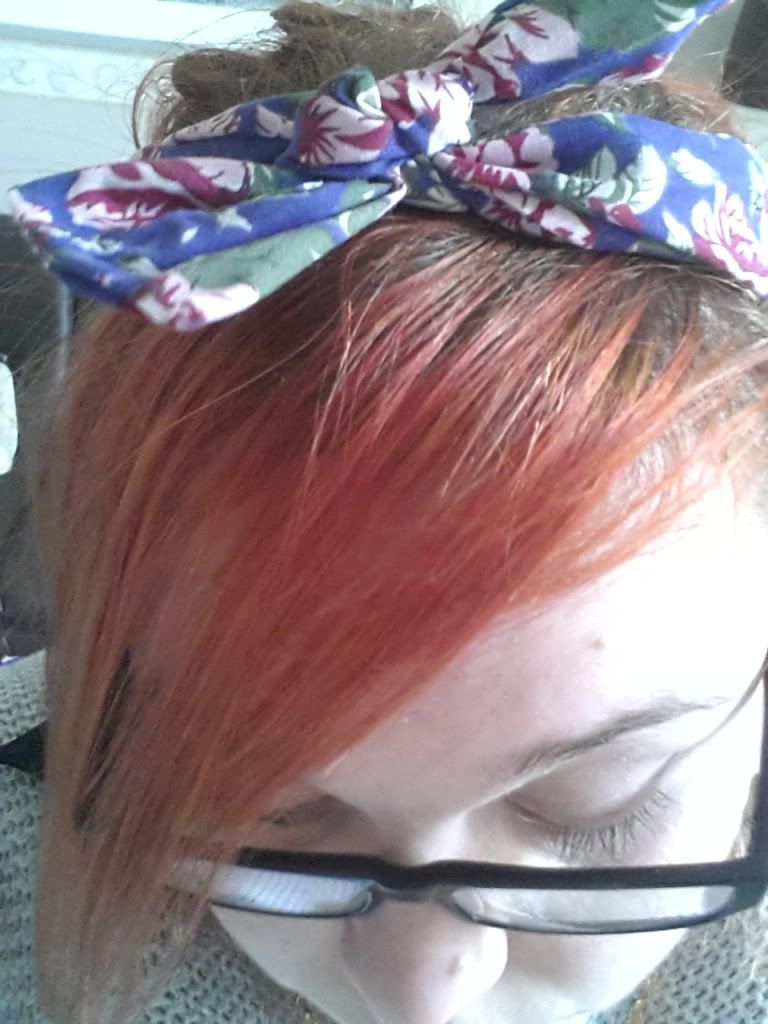 (Excuse the roots! I just wanted to give an idea of what it looks like on)
Next on my list is the bunting necklace. With this product I opted for the Midnight Blue colour - ever since Wills gave Kate THAT engagement ring I've lusted for something with that colour. I just thought that this necklace was perfect. I was a little disappointed it didn't come in a little box - but that's down to personal preference, don't get me wrong the item was well packaged; it wasn't damaged during the mailing process either (always a worry of mine!)
The first thing you notice when you take it out the packaging is the sparkle. There is glitter than there is THIS! If you're a magpie and are attracted to shiny, sparkly things then this necklace is up your street. I wore this for work the day it came - I received a lot of love for the necklace (who could resist right?) it's different from the other bunting necklaces that are out currently in stores.
It is a lovely length, sits just above the bust - which is always good. I was a little worried that as a fattie, the chain would be too sort. I didn't need to worry about that, the chain is more than ample and isn't a flimsy thin link either, it has big thick links holding it all together. Another plus for the necklace is that, even after a full day at the office - there was no glitter fall out which I have noticed with other similar products. Big win for me, no one wants a balding glitter necklace do they?
Last but not least is the beautiful, envy inducing
Effie glitter bow
. Yes, another glitter item but we need sparkle in our lives - it makes everything that more special. I opted for the shade Peacock, I was curious as to how this would look as there was no image on-line, I need not worry as it was perfect - exactly how I imagined it to be. Again, the item was very well packaged, even came in a box! (How's that for taking care of your hair bows?) It even included a cute little business card, I have a thing about cute business cards.
It's a nice sized bow, not over the top or too small. You can use this for a multitude of uses, jazzing up a bun, covering a hair-band and many more. The colour is a mixture of midnight blue and green glitters, definitely living up to the Peacock name (just think peacock feathers). The size of the glitter is rather big too and covers the bow nicely, again I have not noticed and glitter fall out which
I am
impressed with. I can this item being used a lot in the coming months.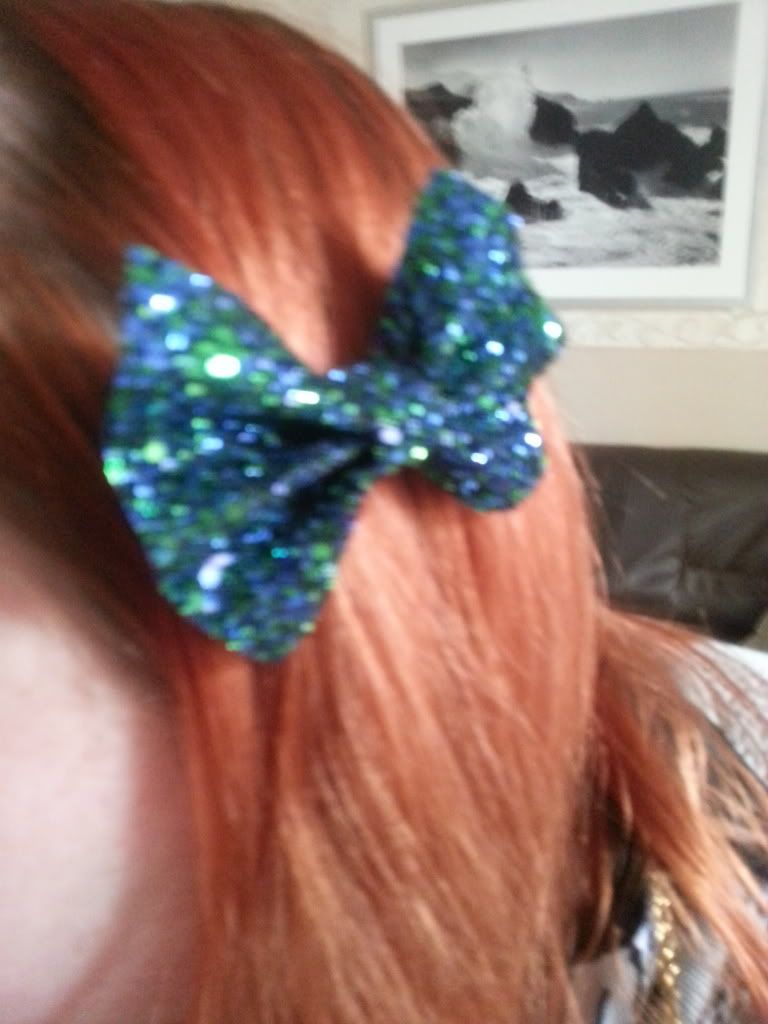 With a nice sized bow, you need a nice sized clip to keep it in place, with some bows they only have a tiny clip or more shockingly a bobby pin (that my friend isn't going to hold anything in place), the
Effie glitter bow
has a large sized crocodile clip fixed to it - evidence that this baby is hanging around for the long haul, no worrying if it is going to fall out or if you are to lose it.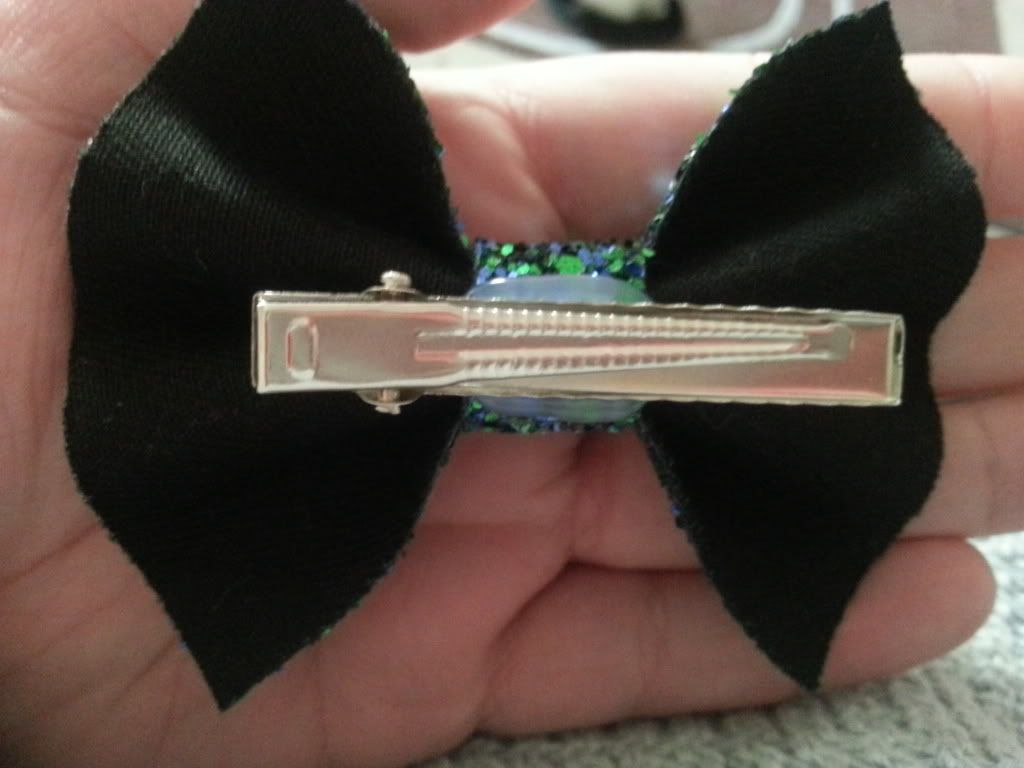 I will most definitely be buying from
Prairie Charms
again.
Please check them out guys! You can always follow them via the links below:
Twitter
Facebook
Blog
Store
*In collaboration